Network Security & Infrastructure
Whether your company has one location or multiple, our team can help design, implement and support your network infrastructure. 
A reliable and secure network is more important now then ever before. With the majority of our apps and data now hosted in the cloud, we're not doing business if we're not online. Our experts will work with you to design a custom network that is structured around your needs, budget and your buildings construction. Our primary focus is to create a product that is user-friendly and empowers you to grow your business. 
No matter your business size, small or large, we will work to design and deploy a modern, fully featured and secure network solution built for your needs.
Why a customized approach?
Not all businesses are the same; that's why it's critical to utilize a tailored approach to I.T. networking. Each company has its own set of pain points to address, number of users/devices, bandwidth, etc. At Lean On Me IT, we get to know our clients needs, listening, assessing and coming up with custom-built network infrastructure solutions.
Cyber threat actors are no longer going after a specific target, but instead casting a wide net to see who they can catch.  It's important for businesses of all sizes to be proactive with their threat protection. Modern business firewalls, known as Next-Generation Firewalls (NGFW), offer threat protection services in an effort to stop threats before they reach your devices.
Security services are offered as bundles depending on your companies needs. The most common UTP (Unified Threat Protection) bundle includes advanced web and content protection. This bundle includes market leading security capabilities for vulnerabilities (IPS), content and web-based attacks. It includes advanced file analysis with AI powered, cloud-delivered, sandbox, near real time antivirus updates as well as market leading cloud-delivered URL filtering with granular video filtering capabilities, C2, DNS and more.  
Viruses and malware aren't just contracted from infected emails or actively downloaded files. You can receive them simply from visiting unsafe websites that are designed to spread these threats to visitors.  A next gen firewall will put a stop to your users visiting websites that are known to be unsafe and/or to categories you deem as un-needed for their work.  
Switches come in two core categories, managed & un-managed.  An un-managed switch is effectively a splitter, providing no interface for management or insight and providing a flat network.  A managed switch provides full control over each port and allows your network to be configured in the most effective way for your business.  Managed switches come in many forms and can be selected based on what suits your networks requirements.  Managed switches can be configured locally or remotely and allow for independent virtual networks (VLANs) to be created for varying connected devices.  When used alongside compatible firewalls and wireless access points, VLAN's allow for segregation of traffic or QoS (Quality of Service)/Traffic shaping.  QoS/Traffic Shaping is a way to prioritize traffic or control bandwidth.  The most popular uses include giving a higher priority to your phone system and a lower priority to a guest network.  In larger networks other requirements may come into play including 10Gbps ethernet/SPF+ ports, layer 3/routing capabilities and switch stacking.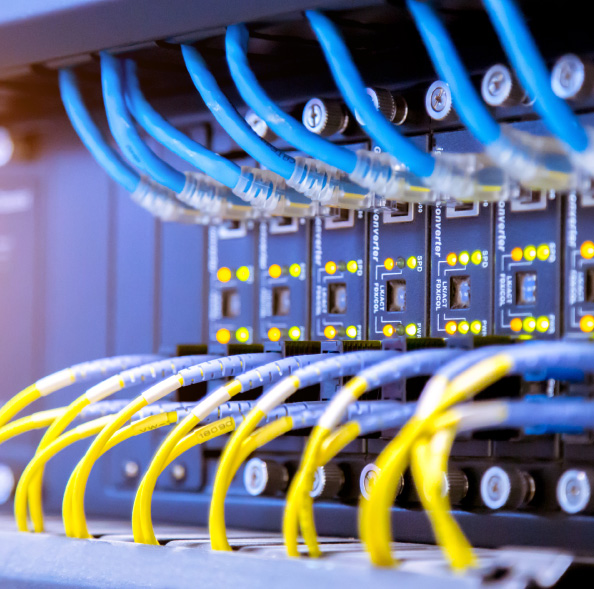 Reliable and secure WiFi has evolved from a "nice-to-have" to a critical investment for businesses of all kinds. Employees rely on WiFi more then ever to perform their jobs and stay productive.  Businesses that may have guests find that offering visitors access to WiFi often results in higher sales and customer satisfaction.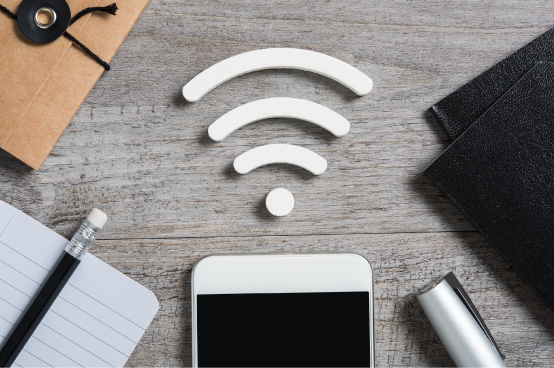 Our team will help to ensure complete wireless coverage using the latest WiFi standard known as Wi-Fi 6 (802.11.ax). WiFi 6 is more efficient and supports faster speeds, this allows you to work wirelessly longer and ensures you can fully utilize your available bandwidth.
Choose how your guest connect to WiFi, with or without a password or through a guest portal like you see at hotels. 
We ensure all guest traffic is completely segregated from your main network to ensure your data is secure.  
Options to prioritize your employee network or limit available bandwidth to guests.